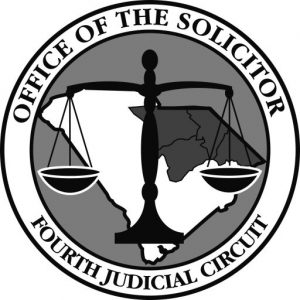 WHAT IS A SOLICITOR?
South Carolina is comprised of 16 judicial circuits.   Each circuit consists of two to five counties and each circuit has it's own Solicitor.  The Office of Solicitor is a constitutional office elected by voters within the circuit for a term of four years.  In many states, this position is referred to as the District Attorney.  The Solicitor ensures prosecutions are processed orderly and efficiently, assigning cases and advising attorneys as the Chief Prosecuting Attorney.  Will Rogers is the elected Solicitor for the Fourth Judicial Circuit of South Carolina.
South Carolina Solicitors administer administrative and diversion programs as alternatives to traditional court processes such as Pre-Trial Intervention, the Worthless Check program and Alcohol Education.  These programs, along with several others, are very effective in helping individuals get on the right track.

WILLIAM B. ROGERS, JR.
Fourth Judicial Circuit Solicitor
Will Rogers was first elected Solicitor for the Fourth Judicial Circuit in November 2008.  He took the oath of office in January 2009 and is now serving his third term as Solicitor.  He was born and raised in Marlboro County and graduated from Bennettsville High School in 1985.  He attended the University of South Carolina where he earned an undergraduate degree in Business Finance in 1989.   He then attended the University of South Carolina School of Law where he earned a Juris Doctor degree in 1992.  Will is married to Debora "Mickey" Rogers.  Will and Mickey were blessed with two wonderful children, Kasey and William.  They attend the First Presbyterian Church in Bennettsville, S.C.  Will is a member of the Bennettsville Kiwanis Club and is a Community Volunteer with the Red Cross.
·DEDICATED TO SERVING THE COMMUNITY·